Welcome on board! From 7-9 July, the iconic vintage store chain Vino Kilo will bring some real treasures to The Ground at Messe Berlin with their second love vintage market including fun personalisation and upcycling workshops. We asked founder Robin Balser about his inner drive, some good life hacks and his favourite summer outfit.


What inspired you to develop Vino Kilo?
I have been passionate about using the existing to create change in the dirty fashion industry since a very early age. My first company was all about swapping and sharing. I want to connect consumers to a platform where they can swap and share their former favourite items for new ones. And with that, create endless possibilities of self expression. We had a clothing library back in the days that we had to dissolve and in the process we sold our existing stock at a per kilo price. The beginning of Vinokilo…
Who's your customer? And what moves them right now?
People who love fashion but don't want it to cost the earth. Our customers love to dress unique, prioritise quality and want to enjoy the shopping experience.
What can we expect from the Vino Kilo appearance at The Ground?
Amazing vintage gems, good vibes and education about real sustainability in fashion. Experiencing a fun time while shopping unique items with good quality guilt-free.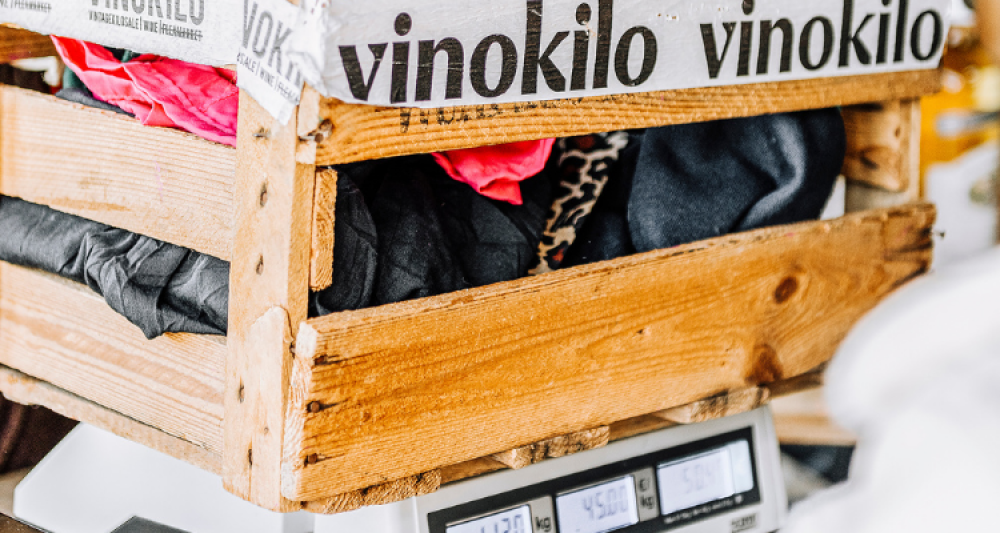 Your 3 favourite sustainable hacks in everyday life?
1. Take responsibility as a consumer, we have the collective power to enact change.
2. Educate yourself! There is lots of greenwashing! If someone writes sustainable, bio or eco, always doubt first and try to learn before making an opinion.
3. Don't fall into cynical thinking! TAKE ACTION!

Your perfect summer outfit?
Light Indian sandals, white linen pants, bright coloured vintage shirt and lots of jewellery – also at the legs.
A podcast or book that really made you laugh recently?
My brother is a sound designer and regularly makes me laugh with his artistic concepts.
Vinyl or Spotify?
Vinyl! I don't own a Netflix, Spotify or Amazon account, because the creators/artists don't get enough out of it.
Your biggest vintage treasure?
The first Jacket I ever swapped which inspires and drives my path until today.
About Vino Kilo 
Vinokilo is Europe's leading secondhand fashion brand. Since 2020, its e-commerce business grew by 150% and has saved 420.000 kilograms of high-quality clothes from the landfill. Its pop-up stores have been to 82 cities in 10 countries and attracted more than 550.000 visitors.
STAY TUNED
Follow us on Instagram to be the first to receive all the news and magic!